Activities
Learning App
Click on info to hear the word.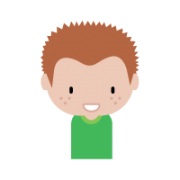 The European Commission support for this platform does not constitute an endorsement of its contents or web resources linked to it. Learning materials reflect the views only of the authors, and the Commission cannot be held responsible for any use which may be made of the information contained therein.
ID
Text number: 1018
Name:
Age:
Country:
School:
Transcript
My container
I think that my container is good because:
It cannot tear apart because it is made out of fleece.

It cannot be dented because it´s made out of a sturdy fabric.

It cannot break because fabric can´t break apart.

It has cords to be closed and handles so I can carry it.
My container is an adorable orange polar-fleece bag. Here´s how to make it:
Cut out a rectangular piece of fabric.

Fold it and sew the two sides together.

Punch holes along the open end. (Let an adult do it!)

Twist two strings of yarn together to make a cord. You need two cords.

Pull the first cord through the jounced holes and tie the ends together.

Pull the other cord through the punched holes from the opposite direction.




Again, tie the ends together.
Note: It takes about an hour to make this draw-string bag.
Survey
Please help us improve our PALM platform and fill in this short survey:
This text number is 1018!